80W 100W CO2 CNC Laser Cutter Engraver for Wood Acrylic Plywood Rubber Laser Engraving Cutting Machine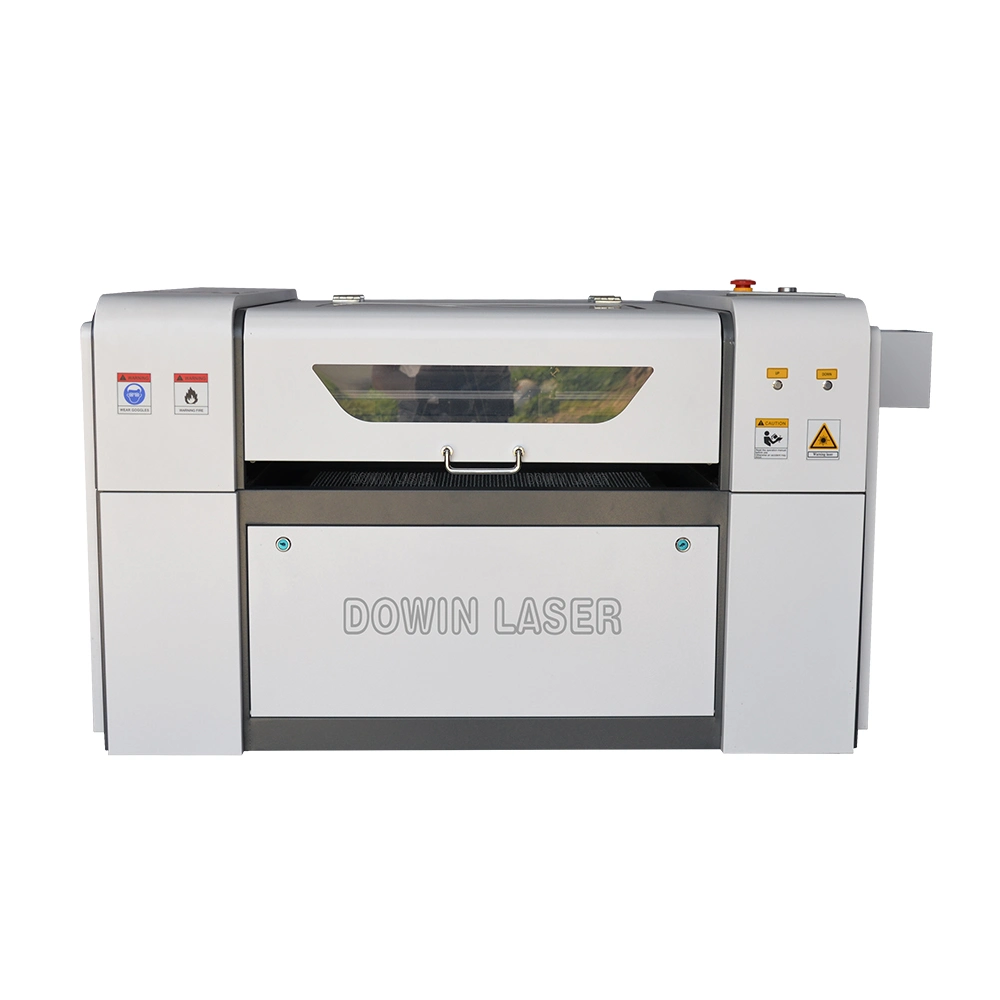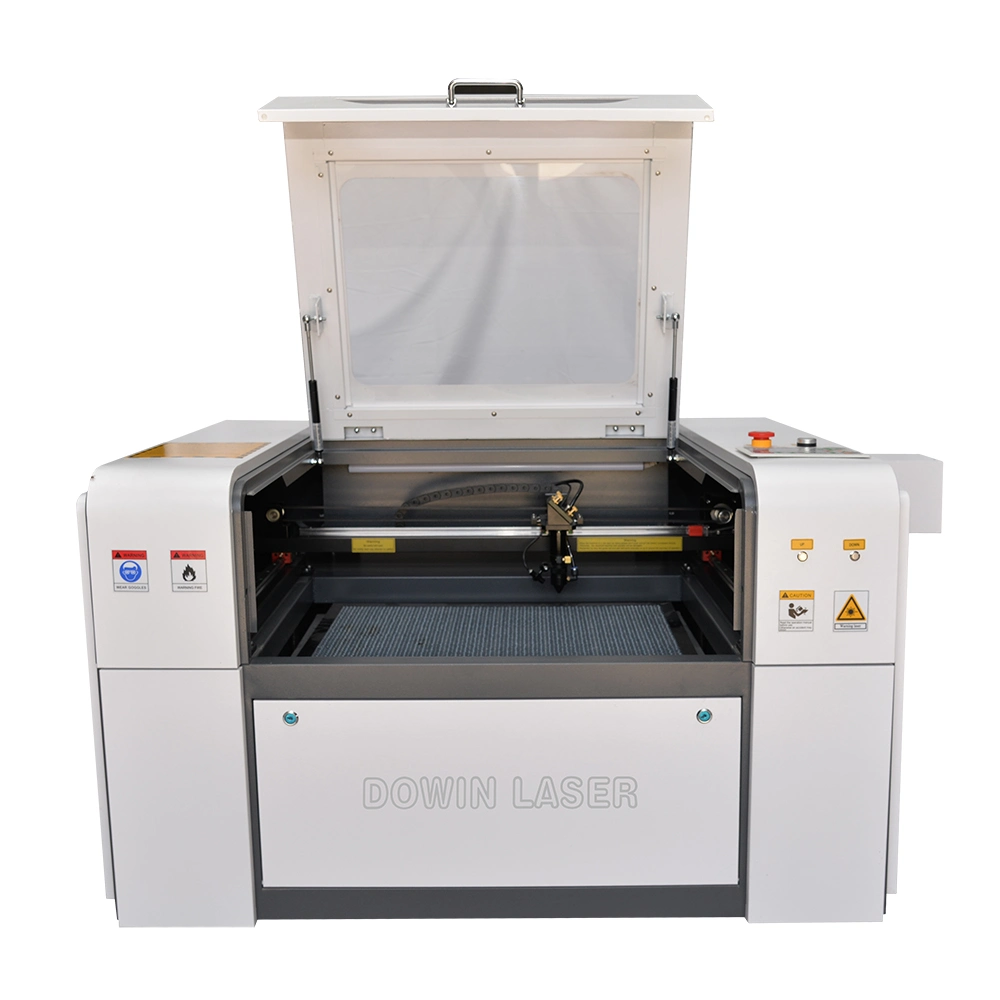 APPLICATION
CO2 laser machine widely used in processing industries of lager-scale cutting and engraving,such as garment,leather,clipping,cutting of template,package and printing,advertisment decoration,building upholster,art gift,computer embroidery,paper prodct,acrylic product,MDF board and other high precision required industries.
(1) Cutting
Acrylic,perspex,wood,MDF,plywood,veneer,paper,leather,rubber,fabric,cloth,canvas,leather,fur,foam,plastic,PES,PC,PA,PE,PP,composite material,PVC,etc.
(2) Engraving
Acrylic,perspex,wood,MDF,plywood,stone,marble,glass,jade,crystal,metalcoating,paper,leather,rubber,fabric,cloth,plastic,PVC,etc.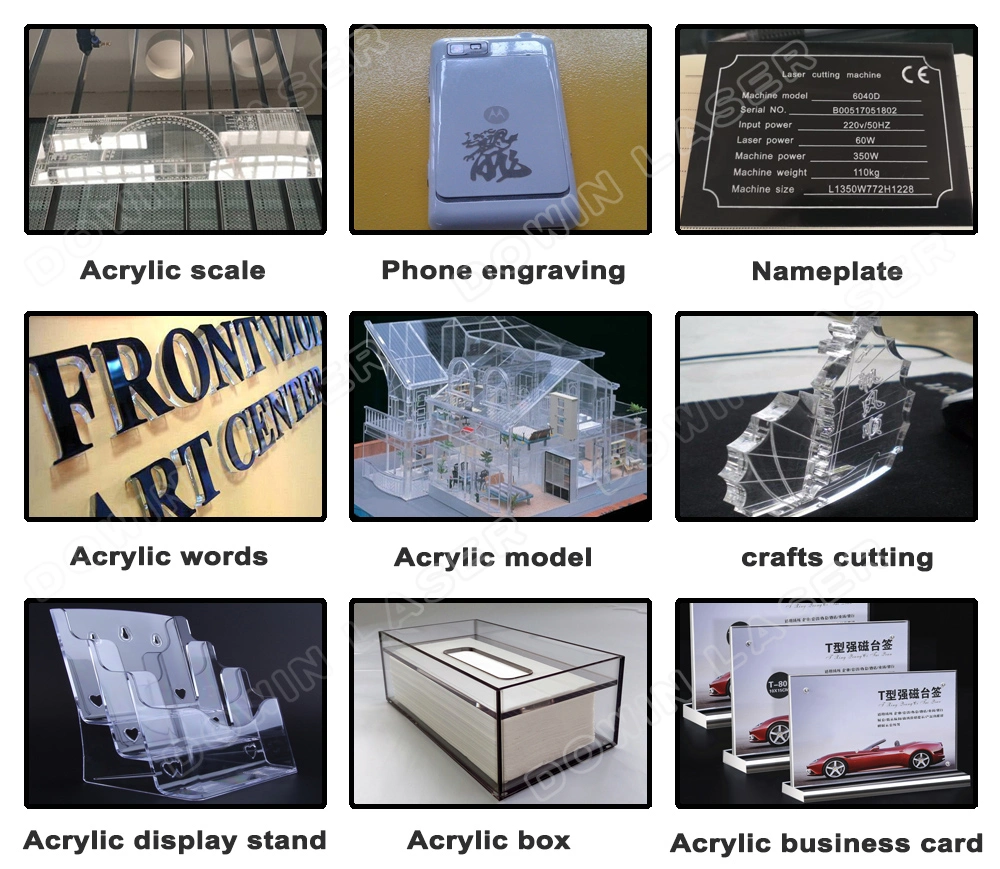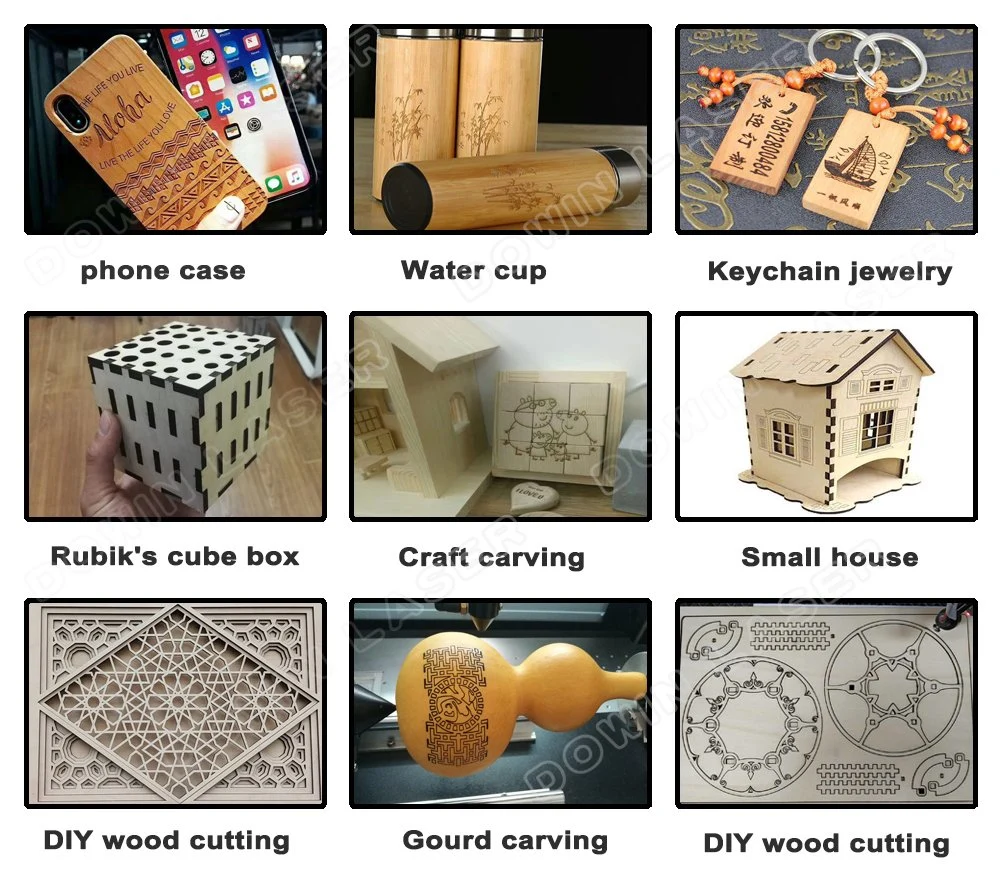 DETAILED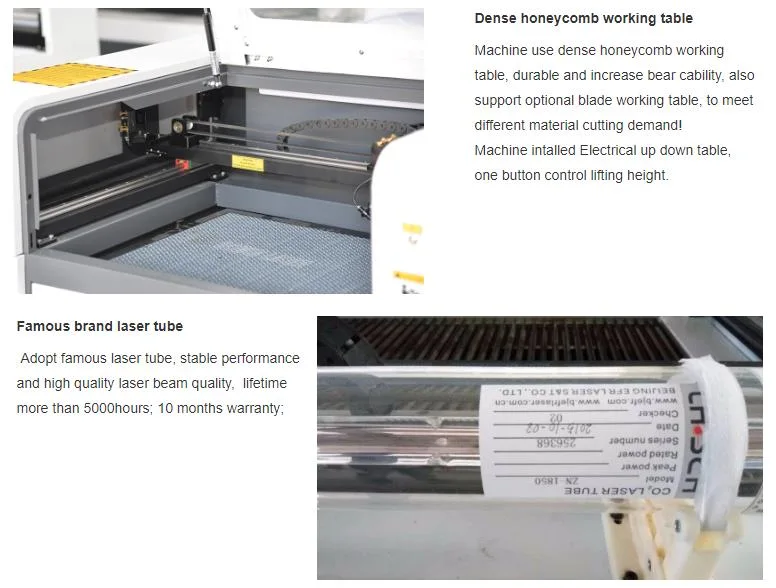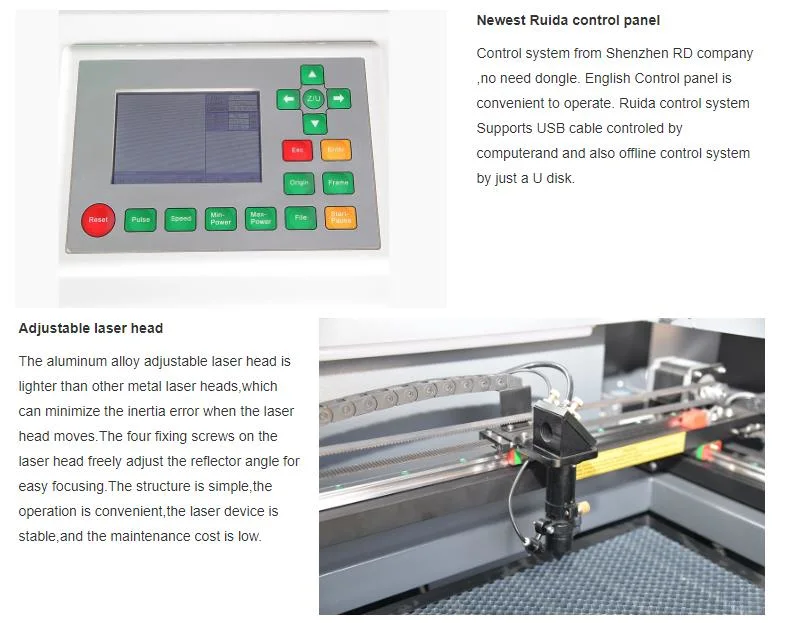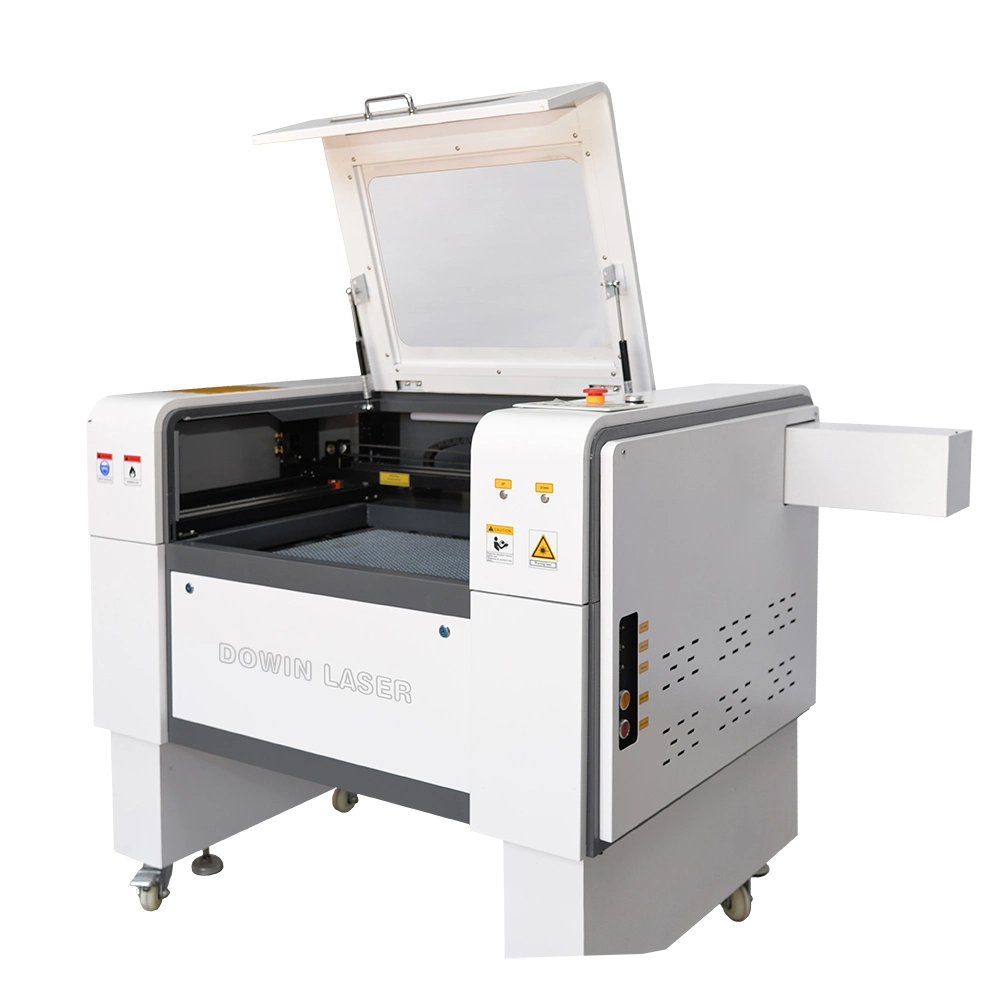 High end design
Machince with attractive and reasonable design, fond back door can be teared, allow long material pass through! Not material length limited, improve working effciency.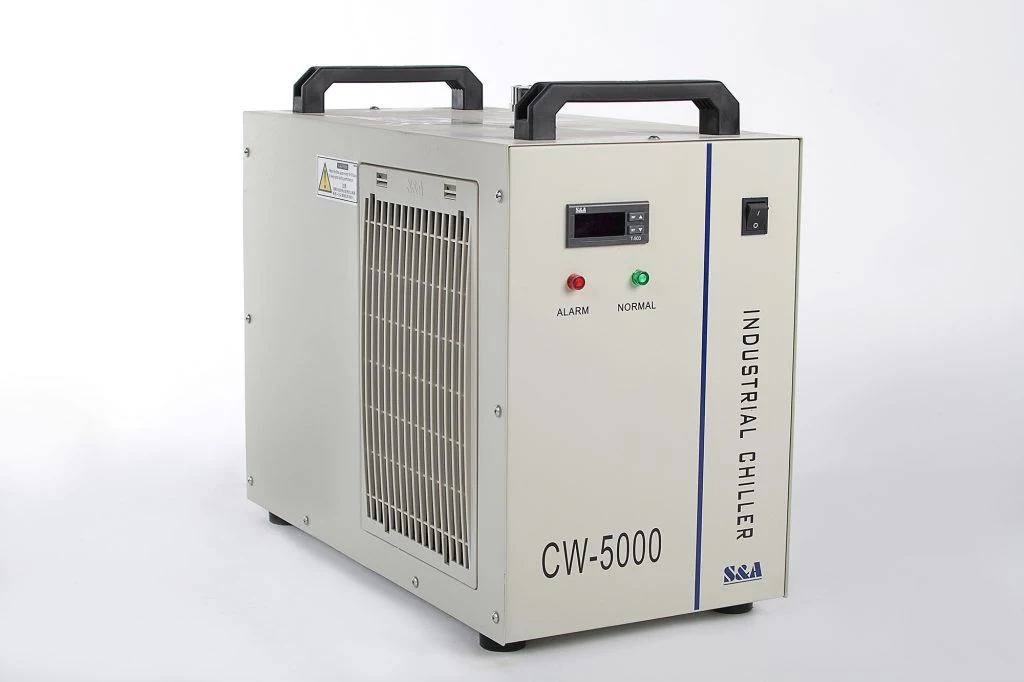 S&A Industrial Water cooling control system
The laser and leaser head working at high temperature can be cooled quickly to ensure that the laser machine has stable power and efficient and fast operation.
Exclusive no water warning and automatic protection system, if there's no water or the water flows in opposite direction, there'll be alarm prompt and stop working,can protect the working.

Machine standard configuration:
(1) Laser tube: EFR 60w 80w 100w CO2 laser tube
(2) Control system: Ruida6445 control system
(3) Electrical up down table, lifting height is around 300mm
(4) Guide rail: Taiwan squre rail
(5) Cooling system: water pump for 40w 60w 80w
(6) Table: Blade Table or Honeycomb Table
(7) Wooden back

Packaging & Delivery:
Packaging Details: Wooden Box Packing
Port: Shanghai/Qingdao
We will choose the most suitable packaging and transportation method for you according to your needs about this laser cutting&engraving machine.
1. Outside package: Standard marine export plywood case.
2. Inner package: Stretchy film and plastic film for humidity.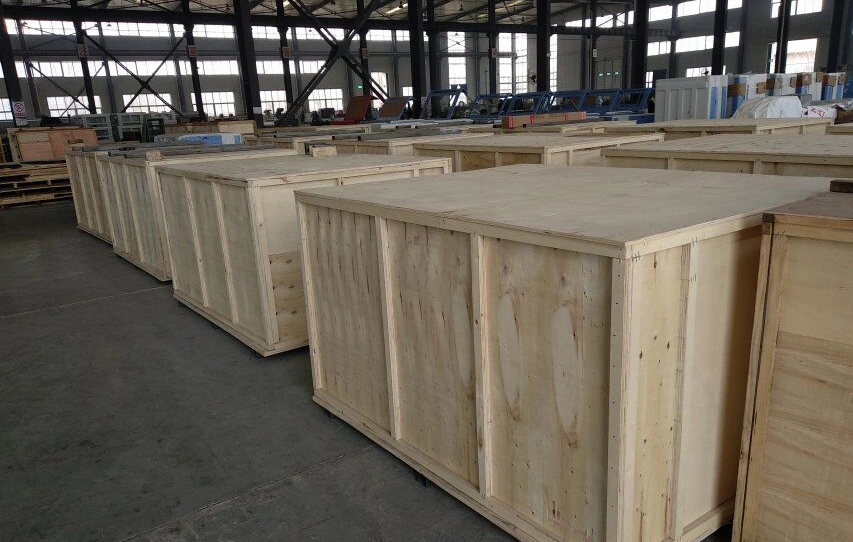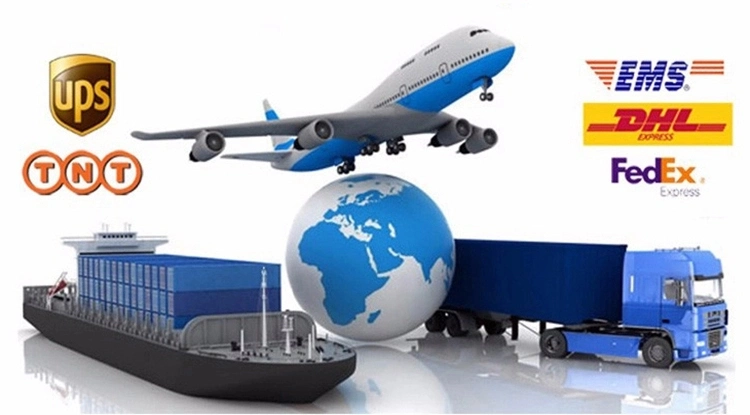 Company Information
Dowin Tech Co.,Ltd.specializes in R&D and production of various laser equipment,such as laser cutting machine,laser engraving machine laser marking machine and laser welding machine.All series machines are with One-three year's warranty.Also our service support various languages,like English,Spanish,Russian,and so on. Meanwhile,customized equipment are available according to different requirements.Within the laser engraving and cutting field,Dowin laser has passed CE and FDA qualifications.Which assures high-efficient production and products' reliability. After years of hard work,Dowin laser products have made presence in more than 100 Countries such as North America,West Europe,South Asia,South America and Mid East etc..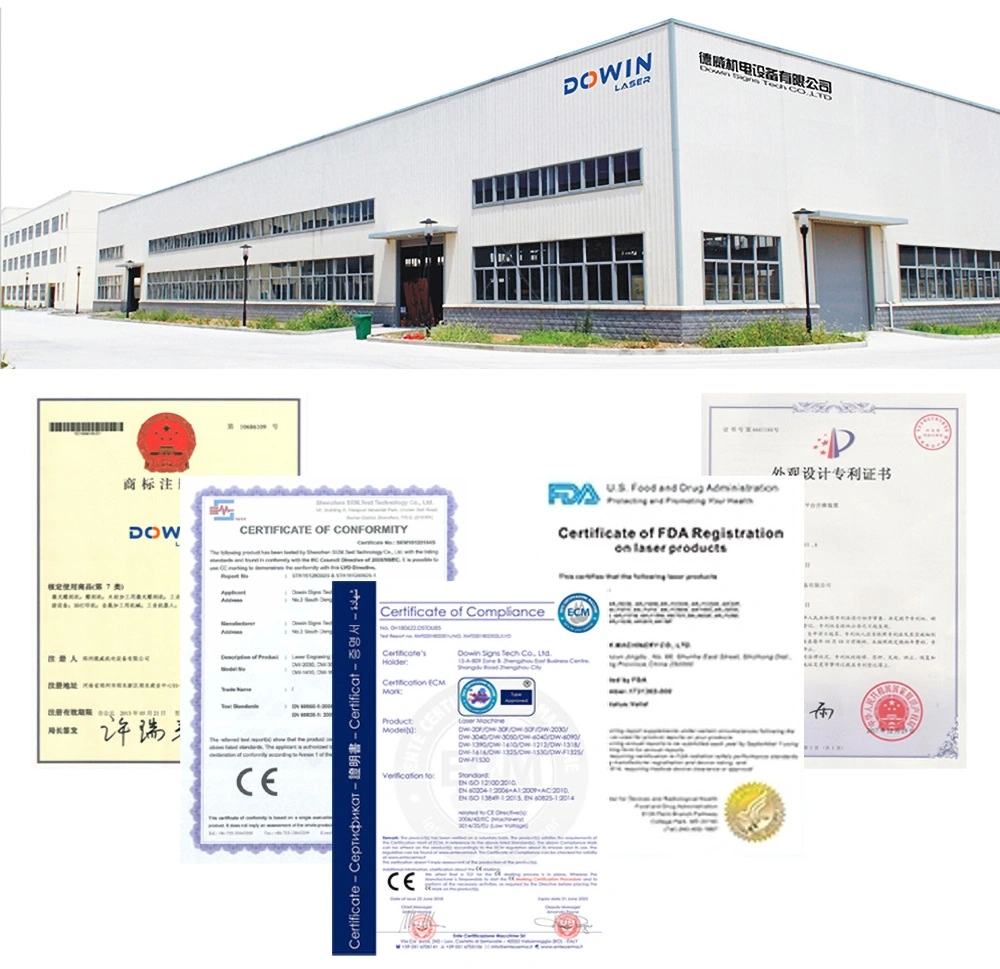 FAQ
Q: Do I need two laser machines to engrave and cut separately?
A: No, the laser machines we provide are capable of both engraving and cutting. One machine alone can fulfill the two purposes.

Q: What kind of graphic format does it support?
A: JPG, PNG, BMP, PLT, DST, DXF, CDR, AI, DSB, GIF, MNG, TIF, TGA, PCX, JP2, JPC, PGX, RAS, PNM, SKA, RAW , etc.

Q: How to distinguish laser tubes with different powers and applications?
1. Laser tube length (relatively speaking, the longer, the bigger)
2. Laser tube diameter (relatively speaking, the thicker, the bigger)
3. The bigger a laser tube power is, the deeper the machine can cut, but its light spot is bigger. So, it is better to use a
machine with a low-power laser tube to engrave, such as 40W,50W , 60W or 80W.

Q: What are the applications for laser tubes with different powers? For example, what is the maximum thickness of Acrylic that laser machine can cut?
40W laser tube 5mm Acrylic
50W laser tube 6mm Acrylic
60W laser tube 10mm Acrylic
80W laser tube 15mm Acrylic
100W laser tube 18mm Acrylic
130W laser tube 20mm Acrylic
150W laser tube 25mm Acrylic
We have also document telling what cutting /engraving speed for different materials.

Q: In general, how long is the service life of a laser tube?
A: Generally, a laser tube's service life can reach 5000 hours to 10000 hours depending on the specific usage. For example, if it works 8 hours per day, the detailed data is as follows:
1. If you set the power at 20-30% of the total power, the service life is about 1-2 years.
2. If you set the power at 40-50% of the total power, the service life is about 1 year.
3. If you set the power at 70-80% of the total power, the service life is about 6-8 months.

Q: How can I tell the power of a laser tube has been exhausted?
A: The beam color of a new laser tube in operation is purple. When the power is gradually depleted, the color will become white.

Q: Is it better to increase blow to improve laser processing performance?
A: For some thick materials, it works. But, when carving some other materials, you need to blow less.

Q: How long will it take to learn to operate a laser machine?
A: If you are able to use some basic graphic design software, it will only take a few hours to master the operation. You just need to do some simple tests on different processing materials to know how to set the correct speed and laser power.

Q: Is a laser machine in operation harmful to our bodies?
A: It is not harmful as long as the laser is not exposed directly to skin and eyes.

Q: What's the guarantee, in case the machine breaks down?
The machine has one year guarantee. If it breaks down, generally speaking, our technician will figure out what the problem may be,
according to client s feedback. Parts except for consumable parts will be replaced for free, if the problems are caused by quality problem under "normal use".

Q: How's the payment? How long is the delivery time?
Western Union(WU),Telegraphic Transfer(T/T) to our official company bank account or pay Via alibbaba trade assurance order.
For standard machines, it would be 3-5days; For non-standard machines and customized machines according to client's specific requirements, it would be 7-15 days. Chinese factory wifi control laser cutting machine 100w with Ruida software.