Hot Sale Industrial CNC CO2 Laser Cutter Machine Manufacturers Price
(Model:PEDK-130250M)
Contact: Lydia

Description:
Mix Cutting Laser Cutting Machine mainly used to cut both metal and non-metal machine together. The cutting thickness can reach 2.0 mm stainless steel, 3.0 mm carbon steel, 40 mm acrylic, 23mm wood, 25mm MDF.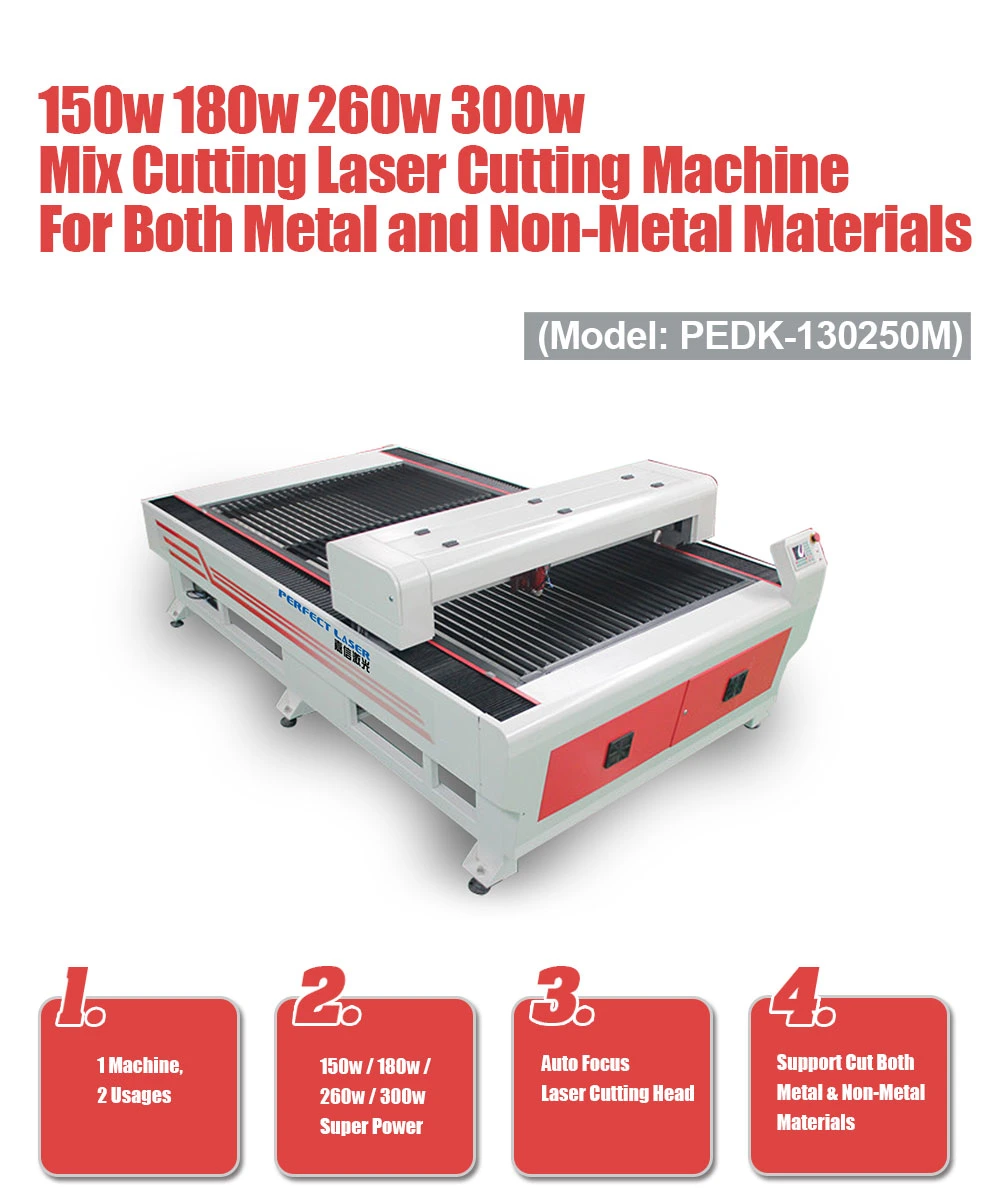 Application Fields:
Application Industry: Advertisement, arts and crafts, toys, car, mechanism, electron, as well as in trademarks, embroidery, clothing and other industries.

Special Features:
1) Mix Cutting: It supports both Metal and Non-Metal Cutting, can cut stainless steel, carbon steel, mild steel, also can cut acrylic, wood, MDF engraving and cutting.
2) Adopt 160w - 180w or 260W Laser Tube, high power, 10000 hours long life span.
3) Adopt Japan Imported Servo Motor and Ball Screw Transmission Rod, with fast speed and high precision.
4) Dynamic Auto-Focusing Metal Sheet Laser Cutting Head: When the metal sheet is not plain, the dynamic focus laser cutting head can adjust the focusing distance automatically.
5) Advanced LCD Touch Screen+ USB port+ DSP Offline Control, which can not only work without computer, but also connect to U disk, USB communication.
6) LCD Control System own 128M Big Memory, which can store files in the machine for engraving and cutting, compatible with AutoCAD, CorelDraw, Photoshop and some other kinds of graph disposal software.
7) Imported high precision linear guide rail and professional optical system, dustproof and lubricate, which improve the engraving quality and prolong machine lifetime.
8) Professional Strip work table, which meet the needs of diversified laser procession;
9) Water Cooling System with Alarm Protection, adopt CW-6000 Water Chiller with temperature display, which can avoid over burning, to protect the water circulation from electricity-off.
10) Equipped with luxury Consumables, Imported Focus Lens and reflect mirror, makes high efficiency and steady.
11) High speed stepper subdivision driver control, numeral timing, simulation quantum control laser power, little error, repetition high precision, engrave 1×1mm little English character perfect.
12) Red Light Pointer realizes the exact position without laser.
13) Matched Professional software is particularly designed and written for engraving and cutting, with high compatibility, support any computer operating system.
Machine Configuration: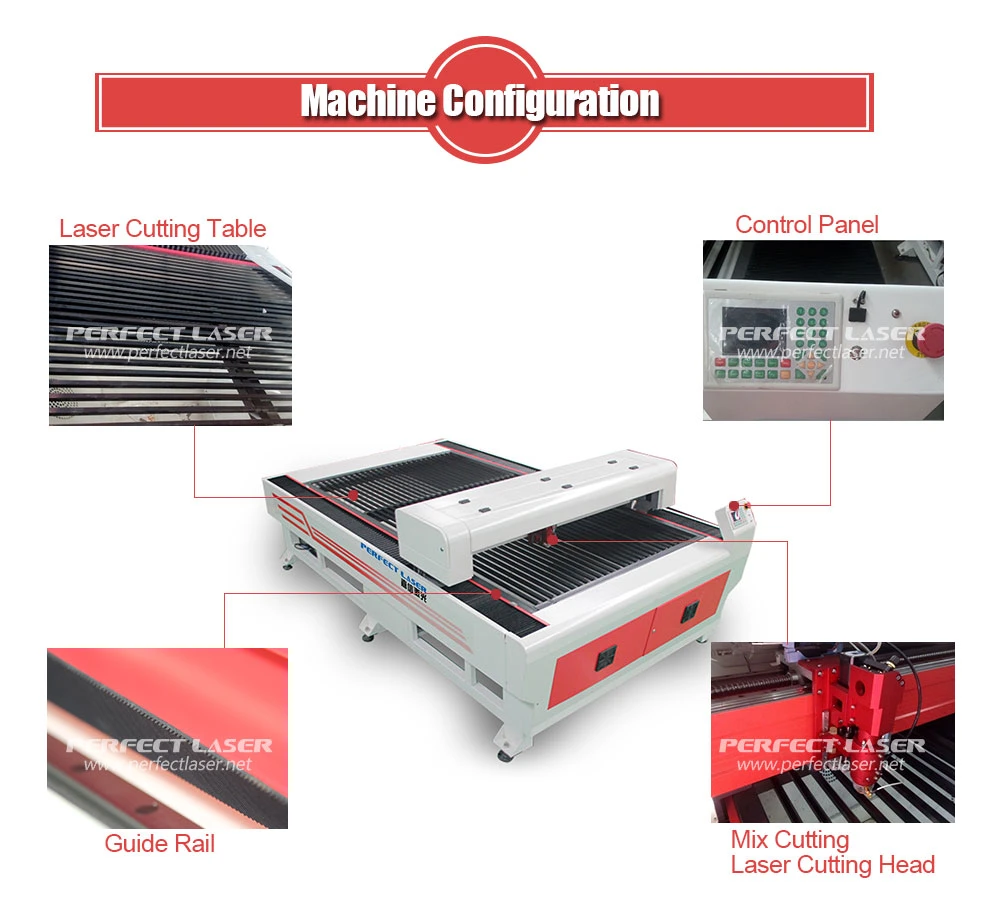 Available Materials of laser mixed cutter for metal and nonmetal:
Advertisement material

Acrylic engraving cutting, plastic engraving and cutting, PVC boardengraving and cutting, rubber plate engraving,
seal engraving, organic glass engraving, Plexiglas engraving, marble engraving, graniteengraving,
Gum engraving, EVA materials engraving, paper engraving and cutting.

Wood material:

Wood engraving and cutting, MDF engraving, plywood cutting, bambooengraving.
Machine Details: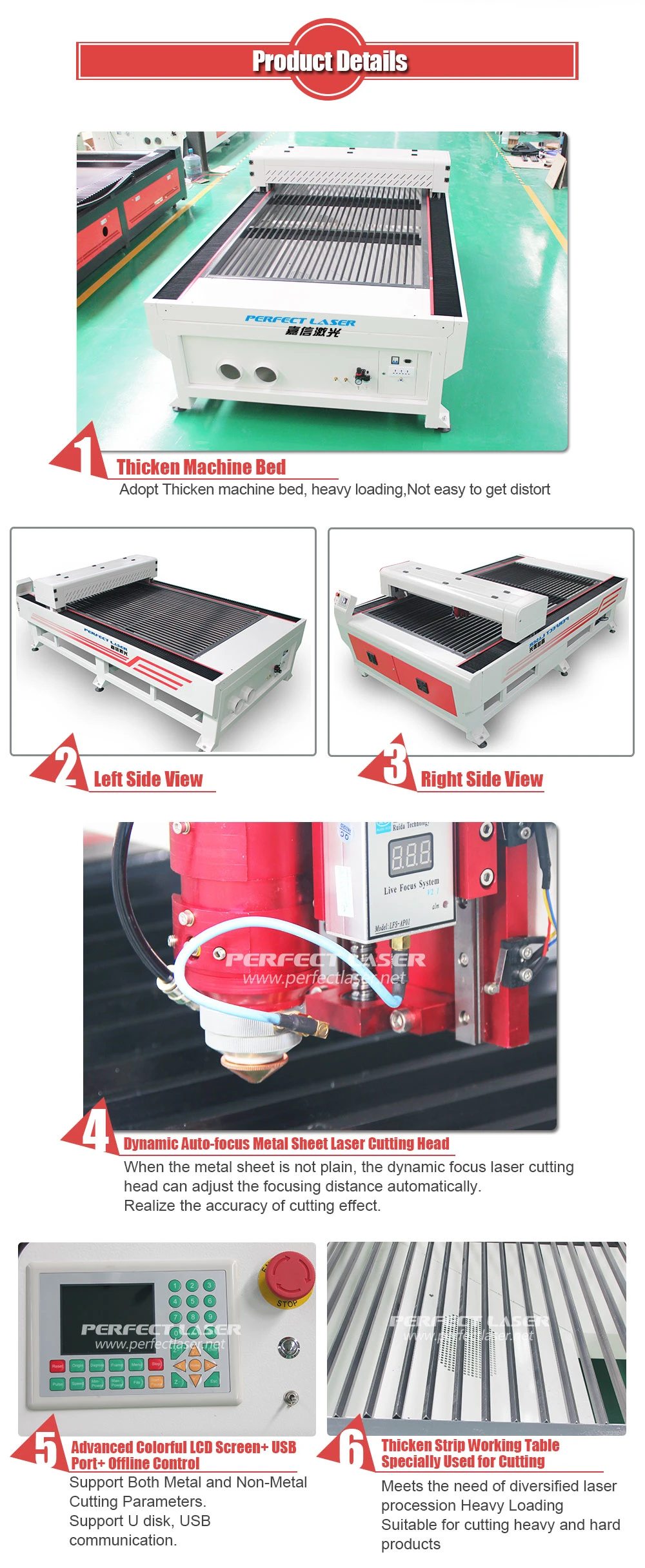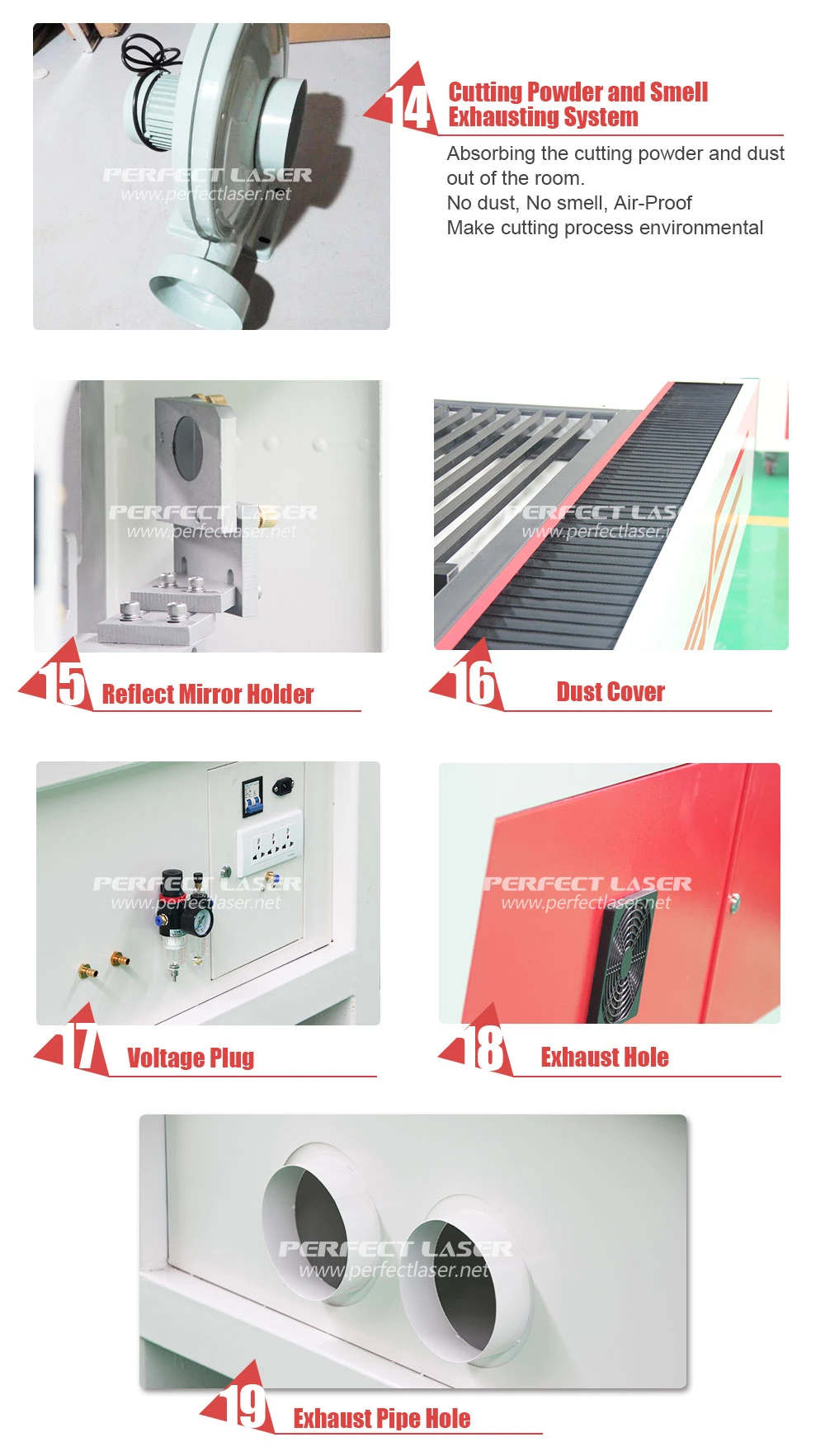 Technical Parameters of laser mixed cutter for metal and nonmetal:
Model

PEDK-13090M

PEDK-130250M

Working Area

1300*900mm

1300*2500mm

Laser Power

150w

180w / 260w / 300w

Transmission Method & Driving System

1. Standard Machine use Belt Transmission + Chinese Top Brand "Leadshine" Step Motor and Driving System
2.Optional Machine use Ball Screw Transmission + Japan IMported Yaskawa Servo Motor and Driving System

Laser Type

CO2 Sealed Laser Tube, 10.6um

Cooling Type

Water Cooling,
150w-180w Machine use CW-5000
260w-300w Machine use CW-6000

Working Table

Stainless steel and knife table

Laser Output Control

(0-100% Set by Software )

Smallest Character Engraving

Chinese: 2.0mm*2.0mm, English Letter: 1.0mm*1.0mm

Highest Scanning Precision

4000DPI

Positioning Accuracy

±0.02mm/m

Positioning Speed

20m/min

Max. Cutting Thickness

40mm

Max. Cutting Speed

20m/min

Controlling Software

DSP Control System

Graphic Format Supported

BMP, PLT, DST, DXF, and AI, etc

Compatible Software

CORELDRAW, PHOTOSHOP, AUTOCAD, All type of AUTOCAD software

Drive System

High-precision 3-phase Stepper Motor

Auxiliary Equipment

Exhaust Fan and Air Exhaust Pipe

Controlling software

Off-computer controlling system

Working voltage

AC110-220V ±10%/10A,50-60HZ

Power

<2000W

Packing

Standard Plywood

Warranty

12 month for whole machine, 10 month for laser tubes

Training

VCD Training

Weight

1000 kgs
FAQ:
Please let us know following informations:
1. What kind of materials you want to cut ?
2. What is the mostly used thickness and what is the maximum thickness?
3. What is the MAX. dimension of your materials ?
4. After cut, what will be the metal used for? (application)
5. Are you an end user or reseller?
6. The exact material you want to work with? (acrylic, wood,stainless steel iron etc)
7. The working size of the machine you demand?
8. For the laser power, we need know the cutting depth you demand?
9. The destination sea port you desire? Then we can check the shipping cost for you.
According to your above information,we'll recommend the most suitable machine to you.
Contact us:
Perfect Laser Co.,Ltd. (China)
Contact: Lydia / Sales Manager
Add: No.13 YangQiaohu Road, East Lake High-tech Development Zone, Optics Valley, Hubei,
China