High Speed CNC Fiber Laser Cutting Machine for Metal Precision Machining Cutting for Carbon Steel
Product Description
HS CODE: 8456110090
After-sales Service Provided:Online support, Field installation, commissioning and training, Field maintenance and repair service, Video technical support whole lifetime.
Applicable Material: Metal Industry
Laser Type:Fiber Laser
Laser Source Brand: China Raycus
Laser Head Brand: Switzerland Raytools Bm109
Servo Motor Brand:Japan Yaskawa Servo Motor and Driver
Rack and gear brand:Taiwan Apex
Key Selling Points:Multifunctional, High accuracy, Durability
Optical Lens Brand:Wavelength
Guide rail:Taiwan Hiwin
Cutting Area: 1500x3000mm
Machine Weight: 4.5tons
Max Speed, Max linkage speed(x,y):Max 120m/min
X Y axis max positioning speed : 160m/min
Cutting Thickness: Max 11 MM
Maximum acceleration:1.5G
Repositioning accuracy:±0.02mm
Graphic Format Supported:AI, DXF, PLT, BMP, DST, DWG, LAS, DXP
Applicable Industries:Building Material Shops, Machinery Repair Shops, Retail,
Construction works , Advertising Company
Condition:Brand New
Cooling Mode:Water Cooling
Control Software:Cypcut
Warranty:3 years on machine and laser (except Consumable parts)
Max loading weight: 1400KG
Z Axis running range:100mm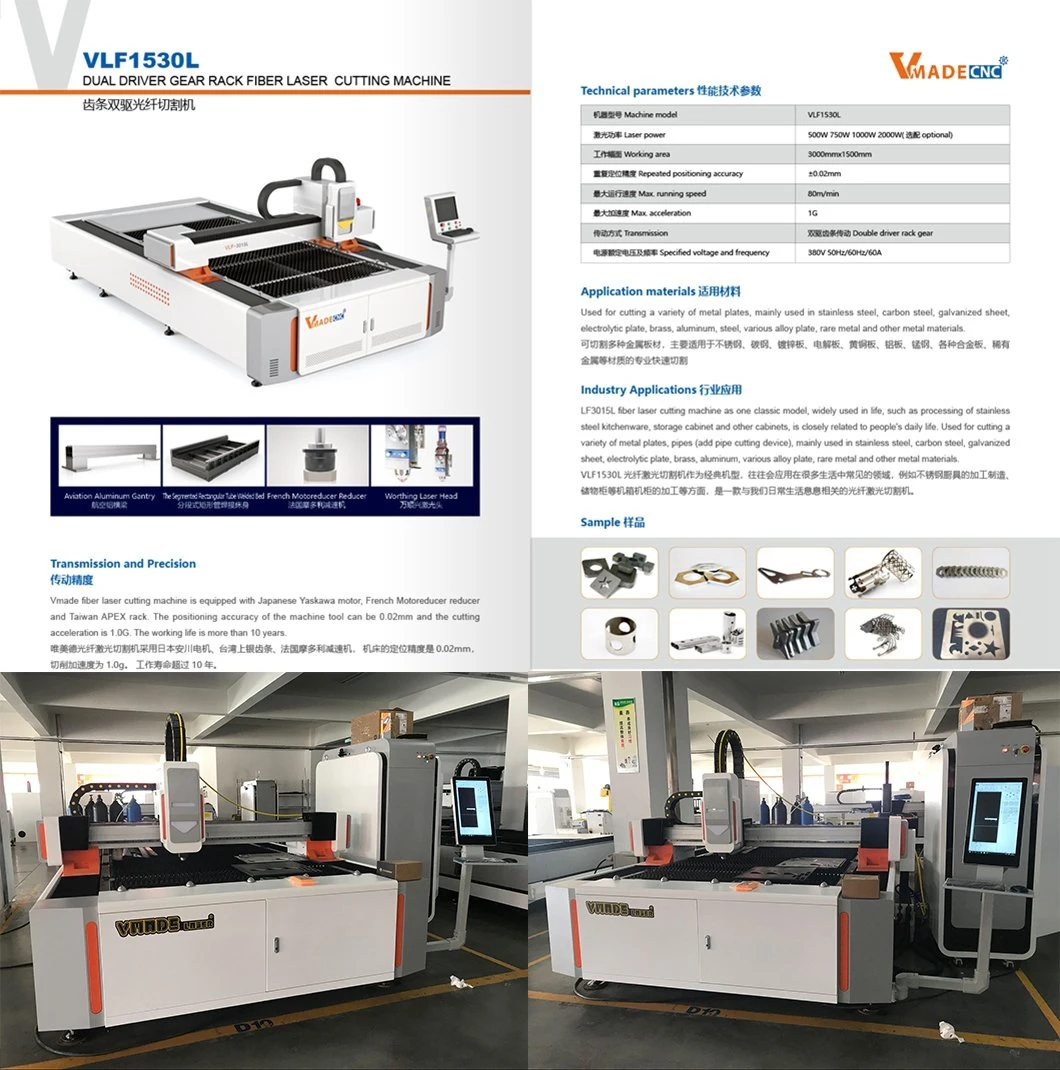 Details
(1) High photo-voltaic conversion rate (above 30%), which helps to save electricity and costs greatly to
guarantee the highest production efficiency.
(2) When processing, the laser only consumes electricity and doesn't need extra gas(only auxiliary gas ),
bringing the minimum operation and maintenance costs.
(3) Adopting semiconductor modular and redundancy design, without any optical glass in resonant cavity
and without start time, so it is in high stability and doesn't need adjusting and maintaining, which saves the
costs and time. In this point, the traditional laser is not comparable.
(4) The output wavelength of fiber laser is 1.06μm, which is a tenth of CO2 wavelength. The output beam is
in high quality and power density, so it is easy to be absorbed by metal materials and therefore has great
power to cut and weld to make the lowest processing costs.
Raycus Laser source

High electro-optical conversion efficiency

Customized output fiber length

QBH connector

Maintenance-free operation

Wide modulation frequency range

Small size, easy to install

Raytools head autofocus

The BM109 series are auto-focusing laser cutting heads released by RAYTOOLS AG in 2017 for fiber laser processing with 1.5kW or less. This products have a built-in motor drive unit, which drives the focusing lens through a linear mechanism to change position automatically within 17mm.Customers can set the program to achieve continuous focus that completing the rapid piercing and cutting material with different thickness. BM109 use the D28 diameters lense set to collimate and focus the laser beam, which can achieve the diffraction-limited optical effect. The design of water-cooled structure allows laser heads to work stably and chronically.



Yaskawa servo motor and driver

Real-time auto-gain tuning

Manual and auto notch filters

Manual and auto damping filters

Setup software with motion simulation

New structure

innovative core

high-precision encoder

Complies with European safety standards

Low interference

Tongfei Industrial Chiller

Using high-pressure electrostatic spray treatment, the appearance is elegant and unique, and durable.
The control system adopts liquid crystal Chinese and English conversion computer controller, fully automatic control, simple and intuitive operation.
With automatic fault diagnosis function, the fault point is directly displayed on the screen, prompting the user to process quickly.

Taiwan guide rail

Hiwin linear slide rails are four-row single arc-arc contact linear slides, and integrate heavy-duty precision linear slides with optimized structural design to improve load and rigidity compared with other linear slides; It has four-direction load characteristics and automatic self-aligning function, which can absorb the assembly error of the mounting surface and obtain high-precision appeal.



Cypcut visualized interface

Automatic graphics optimization

Simple process settings

Flexible processing toolbar

Rich data statistics

Accurate patrol assistance

Double deviation self-correction




France Motor Reducer

The company is located in Saint-Etienne, a traditional military production base in Europe. It is created by cooperation between MOTOREDUCER and a well-known French military aerospace equipment manufacturing company through years of technical exchanges, global market analysis and strategic planning Highly demanding, higher standards and more comprehensive transmission equipment manufacturing enterprises. MOTOREDUCER planetary reducer has been promoted in the Chinese market since 2010, and has successfully served thousands of industrial equipment manufacturers in various fields. Now, in order to meet the improvement of the overall level of industrial manufacturing and better adhere to the "use technology to create value for the world" concept, in 2018 will launch a higher performance, more comprehensive RECKON-MOTOREDUCER precision planetary gearbox series products.




Apex Rack and gear

These drives are perfect for a wide range of applications, including axis drives requiring precise positioning & repeatability, traveling gantries & columns, pick & place robots, CNC routers and material handling systems. Heavy load capacities and duty cycles can also be easily handled with these drives. Industries served include Material Handling, Automation, Automotive, Aerospace, Machine Tool and Robotics.
The rack product range consists of metric pitches from module 1.0 to 16.0, with linear force capacities of up to 92,000 lb. Rack styles include helical, straight (spur), integrated and round. Rack lengths up to 3.00 meters are available standard, with unlimited travels lengths possible by mounting segments end-to-end. Quality levels available include soft, induction-hardened, quenched & tempered and hardened & ground (up to AGMA 12+ and DIN 4).
Technical Parameters
| | |
| --- | --- |
| Model No. | New VLF1530LN |
| Working Area | 1500*3000mm |
| Fiber Laser Power Source | Raycus/IPG/MAX |
| Laser Power | 500W/750W/1000W/1500/20002/3000W |
| Laser Cutting Head | Raytools |
| Motor and Driver | Japan Yaskawa/Panasonic Servo Motor and Driver |
| Control System | Cypcut Control System |
| Max Running Speed | 40m/min |
| Max Acceleration | 1G |
| Transmission | APEX Double Rack Gear |
| Guide Rail | Taiwan HIWIN Guide Rail |
| Repeat Positioning Accuracy | +/-0.02 |
| Reducer | France Motovario Motor Reducer |
| Electric Parts | France Schneider |
| Pneumatic Parts | SMC |
| Machine Bed Weight | 3000kg with Special Heat Treatment (Erosion-Proof) |
| Optional Exchange Platform | 3m Exchange Platform |
| Optional Rotary | 3m Rotary |
Cutting Parameters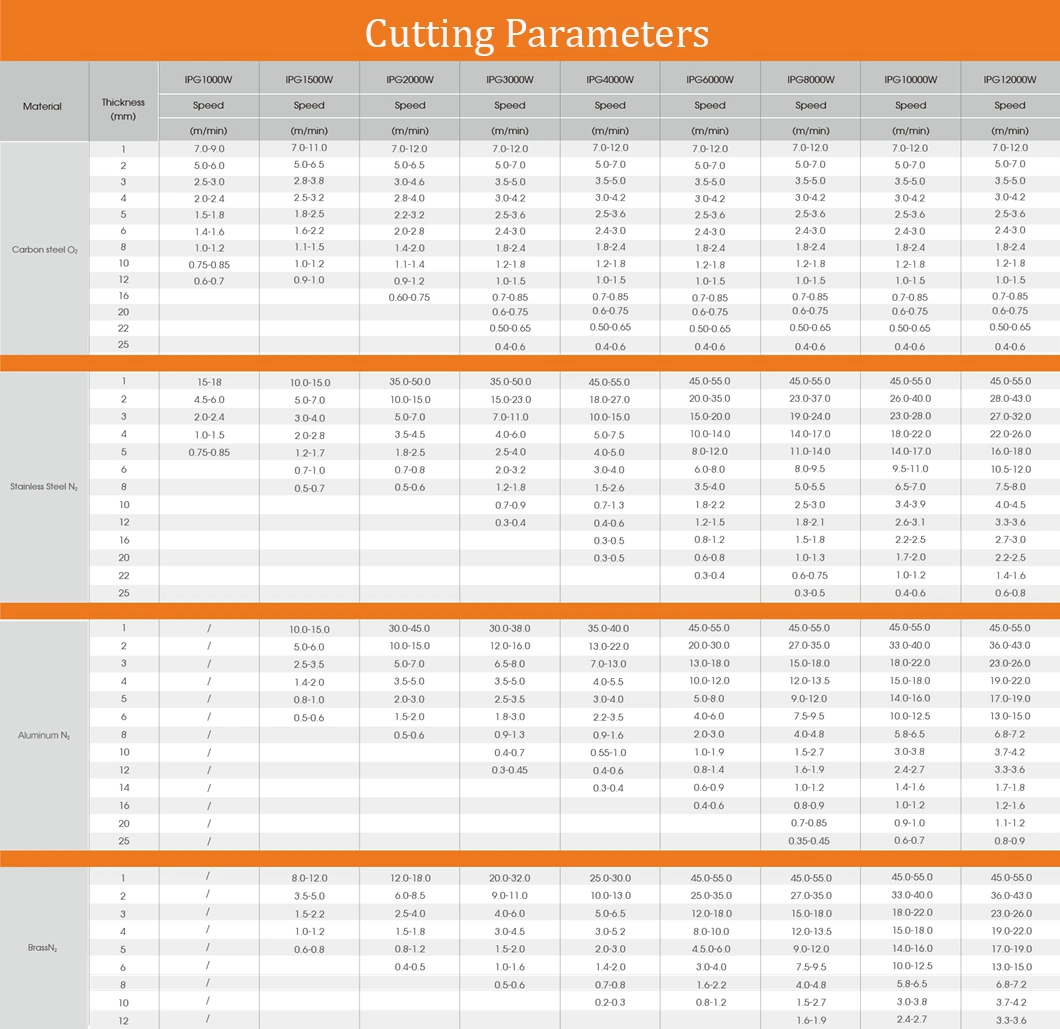 Samples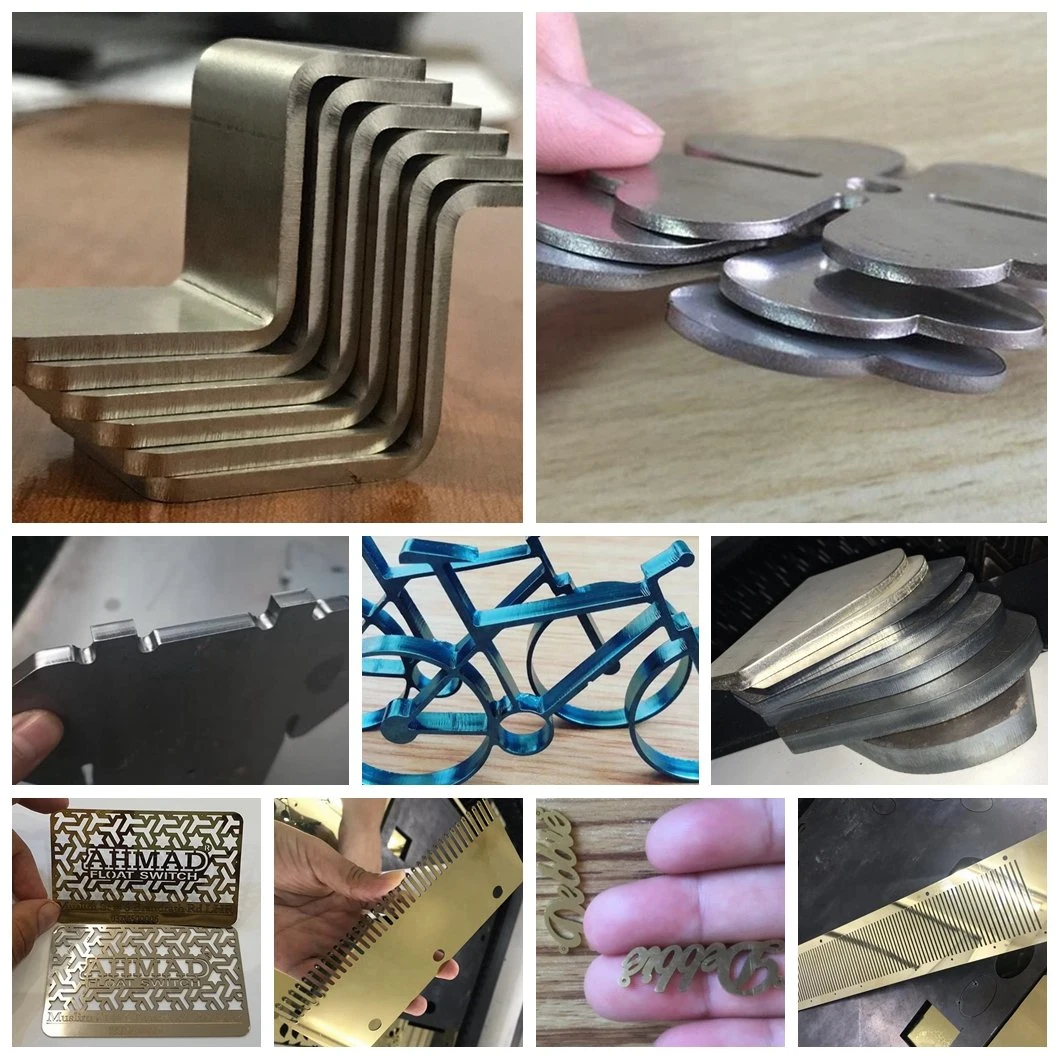 Factory Show
Jinan Vmade CNC Machine Co.,Ltd was established in 2010. Located in high-tech zone, Jinan City, Shandong Province of China. It is a professional team which specialized in Optic, Electricity, Mechanics, and R&D field. Vmade keep delicate and attentive attitude on every step and always keep to learn the most advanced technology and create more humanized products to all our customers. These years, Vmade has sold their products to all over the world. Such as USA, Canada, Brazil, Russia, England, Australia, more than 60 countries and do OEM service to more than 15 dealers and distributors. Vmade is warmly welcomed by customers with their continuously enthusiasm, Frist-Class before/after sales service, efficient reaction and the perfect machine quality.The name of Vmade originate from most of the buyers' expectation. "V", means the VIP design and production which specially customized to each client; "made", means we use hundred percentage of our attention to focus on every order, finalized all clients' entrust with perfect products which are elaborate made.Vmade CNC, keep innovation, with high passion, to provide perfect project for every client. Welcome join Vmade, we will never let you down!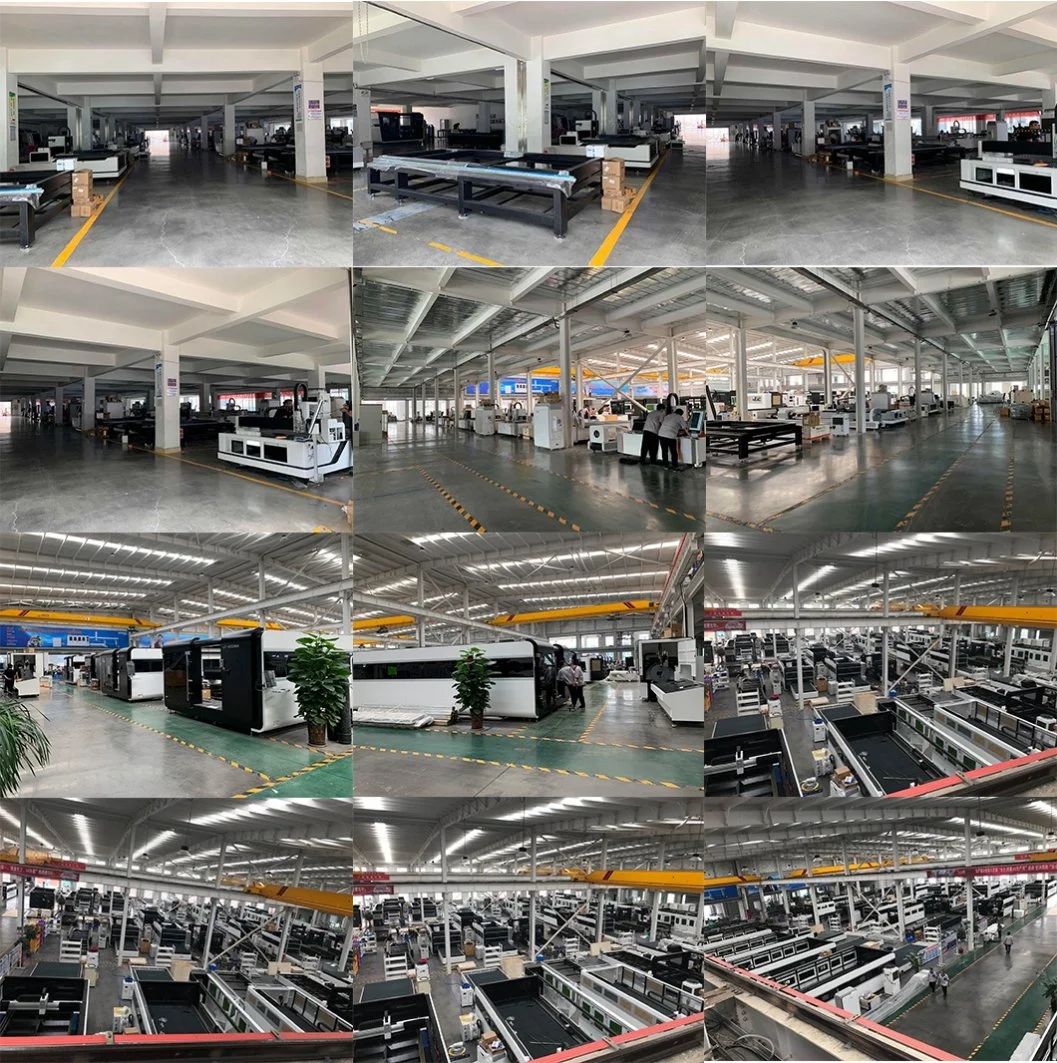 After-sales Service
1. Professional and free after-sales training
Our company has the professional after-sales technical team , providing customers prompt door-to-door or online technical guidance, which can ensure customers are skilled in the equipment application in a short time . At the same time , after-sales technical team would visit customers regularly ,asking customers the using of equipment and upgrade the software of equipment for customers.

2. After-sales outlets are all over the world
Our company has global customer service center , it has 16hours/day online customer service, which can solve all kinds of problems for domestic and foreign customers, our customer service will feedback problems to technical department and productive department,which would give you a satisfactory process of solving problem , ensuring constantly creation of money for you.

3. The feedback of customer satisfaction survey
Company 's after-sales service and technical department will visit customers regularly , inquiring your degree of satisfaction about the equipment and service , we would form proposal according to customer's feedback, the aim of it is finding continuous improvement.

4. The warranty commitment of equipment
The machine's warranty is on three years( not including optical devices and quick-wear parts), except that ,control software is free to upgrade . At the same time ,we guarantee that we will give you the most satisfactory answer for your question whether it is inside or outside of the machine..
FAQ
1.What is fiber laser?
A fiber laser is a special type of solid state laser. Generally, fiber lasers are optically pumped. This is done by coupling the
radiation of diode laseers or other fiber lasers into the cladding or the core itself in a direction parallel to the fiber core. In many cases, double clad fibers are used in order to achieve higher output power.
What's material can fiber laser cut?
All kinds of metal, such as Stainless Steel,Carbon Steel, Mild Steel, Galvanized Steel, Aluminum, copper, etc.

2.Which fiber source does Vmade applied?
IPG - Made in USA.
Raycus- Made in China;
Maxphotonics - Made in China;

3.What is Vmade Fiber laser advantages?
>Excellent beam quality (light-concentrating beam from optical fiber)
>Simple , compact, electrically and optically efficient (small footprint and low power consumption by fiber amplification)
>Compatibly powerful and reliable (realized by high brightness, high power semiconductor lasers as pumping light)
>Maintenance free (the entire optical fiber setups without lenses, mirrors)
>multilingual, more than 11 foreign languages
>3 years warranty .

4.What's the function of fiber laser?
Fiber Laser is only used to cut metals like Stainless Steel, Carbon/Mild Steel, Galvanized Steel, etc. Non-metal is not ok.

5.What's the max. cutting thickness?
Cutting thickness is related to laser power.
1000W: 5mm stainless steel, 12mm carbon steel
2000W: 10mm stainless steel, 18mm carbon steel
3000W: 10mm stainless steel, 20mm carbon steel, 10mm aluminum, 7mm brass, 4mm copper
4000W: 12mm stainless steel, 22mm carbon steel, 10mm aluminum, 10mm brass, 6mm copper
Note: only 1KW or above fiber laser could cut Aluminum, Copper, Brass and other high reflection sheet metal.
Contact Details

TEL:+8618363829698


Please tell us what you need
1.What is your working size?
2.What material do you need to cut/engrave?
3. What is the thickness and size of each materials?
4.What is your business industry? signage or art craft works or what else ?
5.What is your full name,email,company name,website and contact number ?
If you have any questions, Please contact us.