CCD Camera Automatic Feeding Workbench 130W 150W CO2 Laser Cutting Machine for Continuous Line Production
This type Laser Cutting Machine with co2 laser tube is mainly used to cut computerized embroidery labels, irregular labels, embroidery craftwork, print fabric, textile, badge, trademark industries and other nonmetal materials. This type Laser Cutter adopts CCD camera positioning automatically, high cutting speed, high precision, well cutting effect.

1. Specification :
SERIES
MT-V


MT-VD
TYPE

MT-1610V

MT-1810V

MT-1610VD

MT-1610VD

Laser Power

50W/60W/90W/100W

50W/60W/90W/100W

Laser Type

(CO2 sealed laser tube, water-cooled,10.6um)

Work Size

1600X1000

1800X1000

800X1000X2

900X1000X2

Cutting Speed

25-40000mm/min

Laser Energy Control

(real-timeadjustable)

Feeding Way

(Automatic feed)

Feeding System

Simple feeding device, Automatic correction feeding device(optional)

Camera System

(18 million pixel HD SLR camera)

CCD field of view

1600X1000

1800X1000

800X1000X2

900X1000X2

CCD detection accuracy

0.5-2MM(According to the shooting range adjustment)

Graphics Format Support

DST,PLT,BMP,DXF,AI

Software support

(TAJIMA),CORELDRAW,PHOTOSHOP,ILLUSTRATOR,AUTOCAD,(all type of AUTOCAD software in cloth)

Dichroic Cutting

(reaches 256 colors to cut)

Dimensions

2250X1750X1150

2450X1750X1150

2250X1750X1150

2450X1750X1150

Total Power

1500-1700W

2000-2200W

2.Applicable Materials
Cotton, hemp, chemical fiber and other textile and apparel fabrics and leather, wood, acrylic, cardboard and other non-metallic materials
High precision: can cope with complex graphics to achieve high-precision cutting, deformation matching algorithm, the deformation can be precisely cut format
Large format: maximum one-time processing 1800x1000mm graphics, to overturn the traditional camera cutting machine can process small graphical problems.
Suitable materials for a wide range: in addition to ordinary processed fabrics, but also joined the deformation matching algorithms to effectively solve the problem of high elastic cloth materials cut after deformation
Saving materials and environmental protection: multi-model cut and arranged parallel algorithms to improve efficiency, save materials, automatic suction humidity and significantly improving the working environment
Configuration 1800W pixel digital camera, to achieve full-page second shot function, hundreds of samples, shoot second, one second match of advanced vision lighting system, effective guarantee uniformity of brightness of the visual field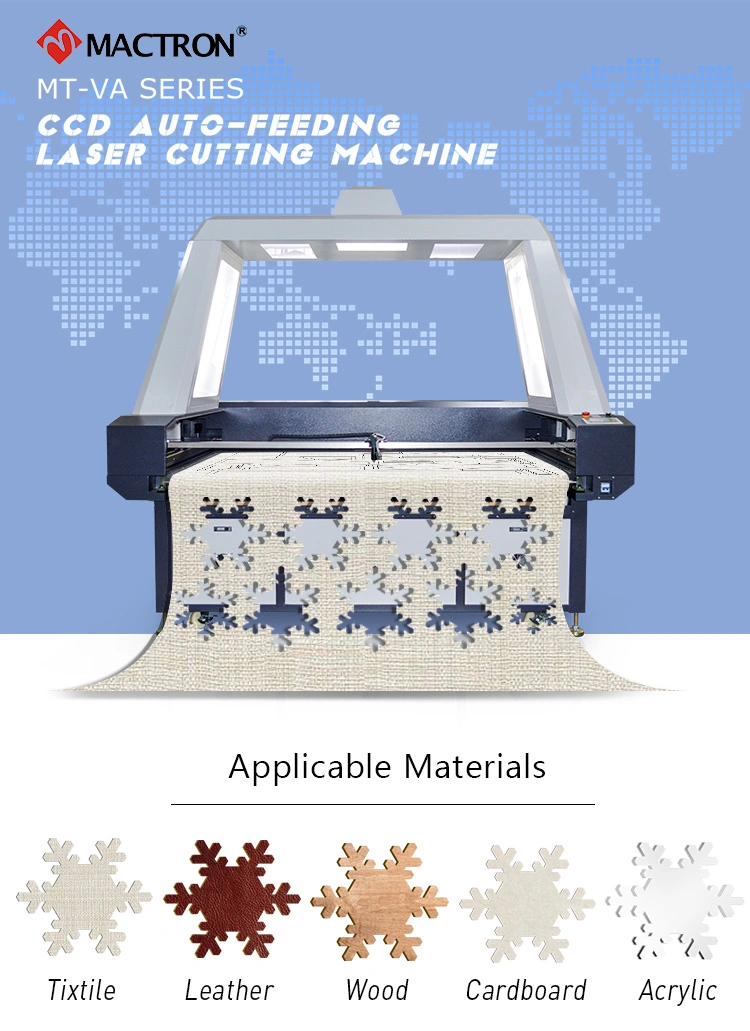 3.Samples :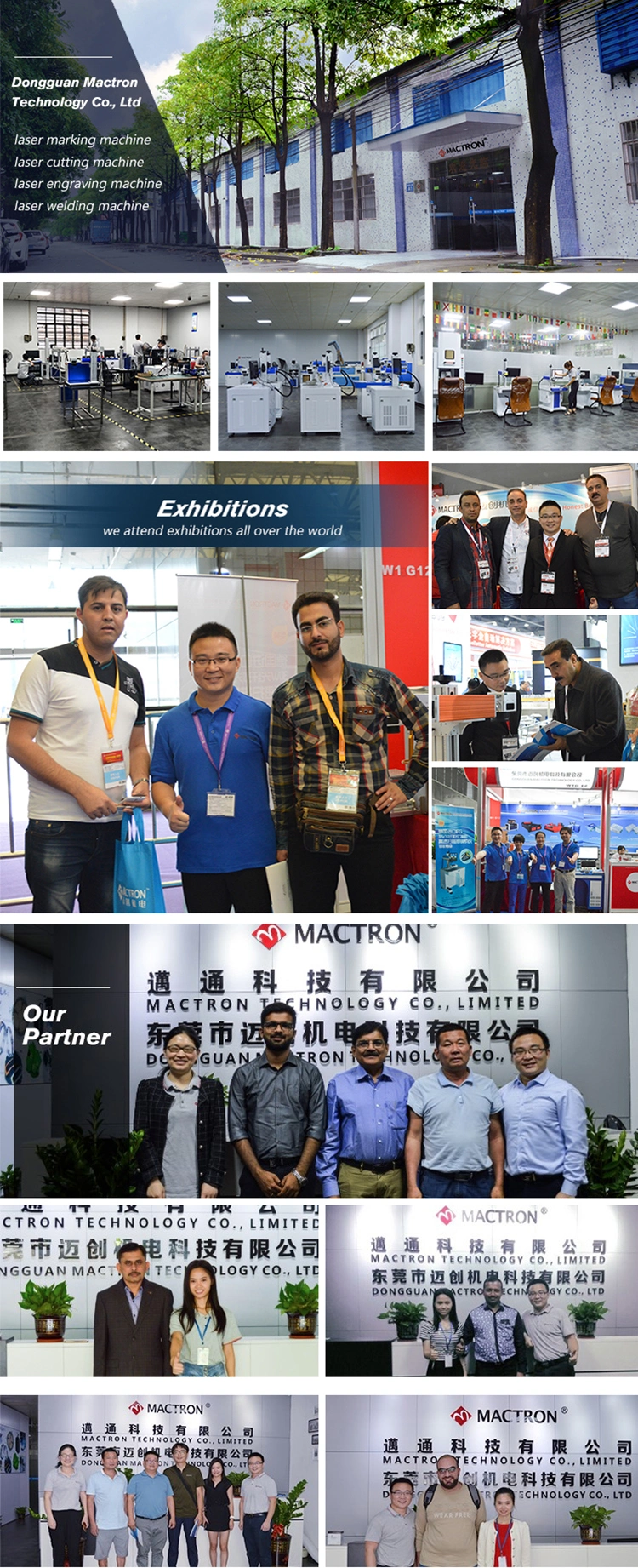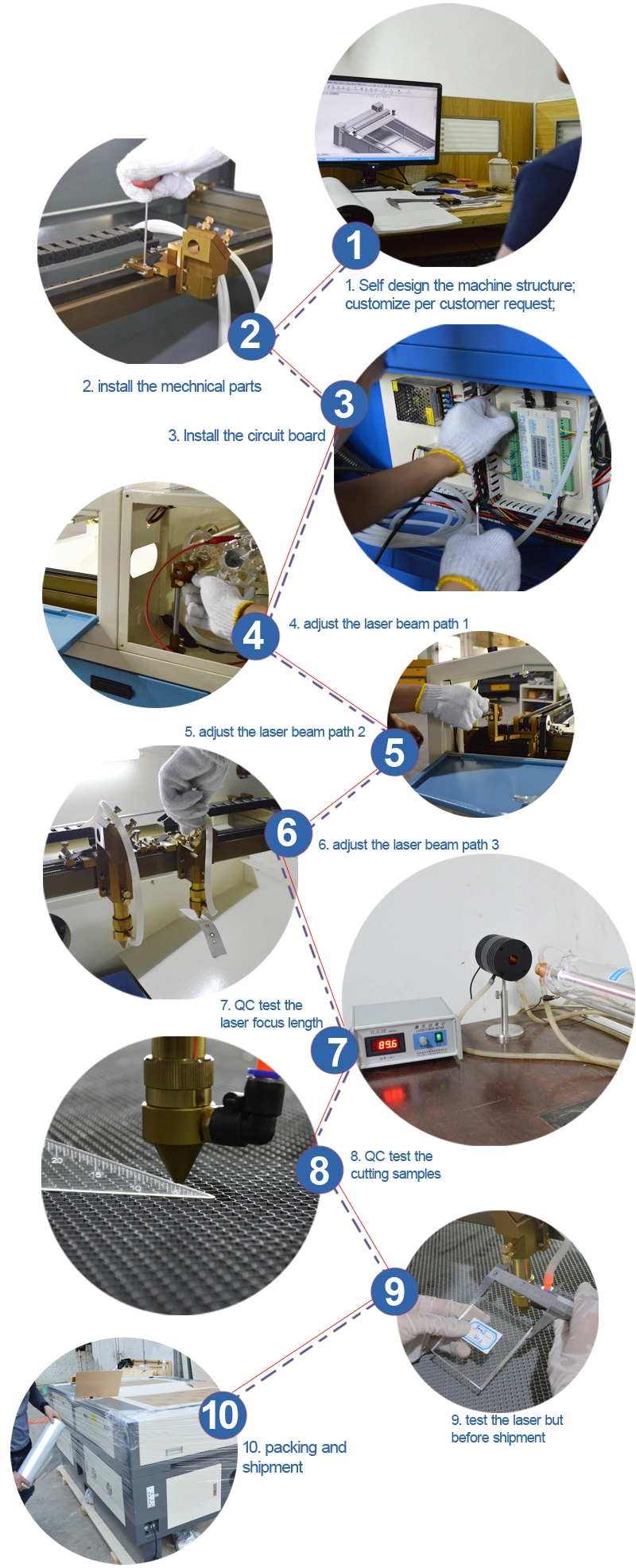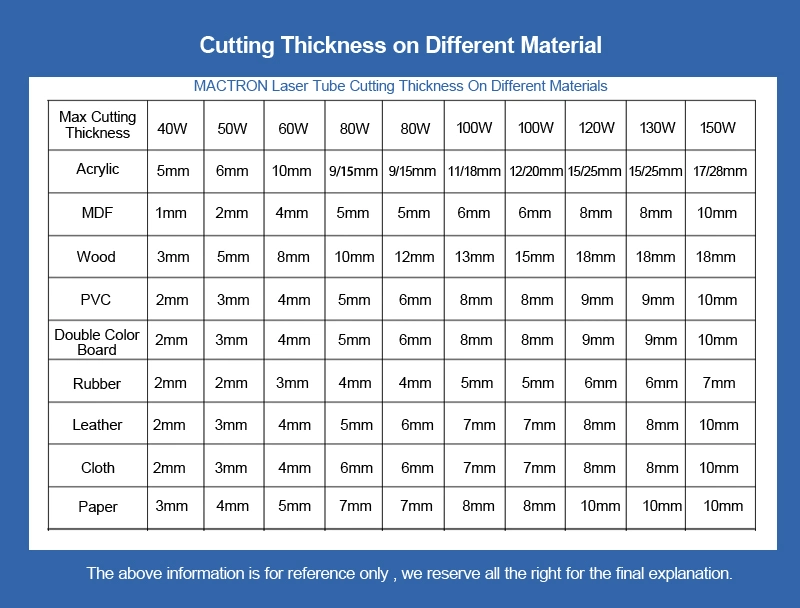 5.Q&A:
1) What are the primary products of your company?
Our primary products include laser marking machine, laser engraving machine, laser cutting machine, laser welding machine, and laser spare parts.
2) Where is your fiber laser equipment applied to?
Our Fiber Laser Marking Machine is suitable for all kind of metal, industrial plastic, electroplates, metal-coated materials, rubbers, ceramics and so on.
3) What are the advantages of your laser equipment?
Our laser equipment has several advantages.
High quality and precision are the featured properties of our laser marking machine. Our laser marking machine employs the domestic leading "Smart Engraving" technology, which could clearly engrave 2mm characters and 1mm letters on the materials.
4) How to do control the quality when you produce laser equipment?
We introduce international advanced production technology, and strictly implement a series of measures of quality and cost control to ensure the quality of laser marking machine. In addition, all raw materials are strictly inspected in accordance with international standards before they are put into production.
5) Which countries are your laser machinery sold to?
Our laser marking machine sell all over the world, such as United States, Mexico, Brazil, Australia, Singapore, Saudi Arabia, Turkey, India, Italy, UK, Germany, Poland, Spain, Romania and many other countries.