BEKE metal steel laser cutter /CNC fiber laser cutting machine price/ laser cutting machine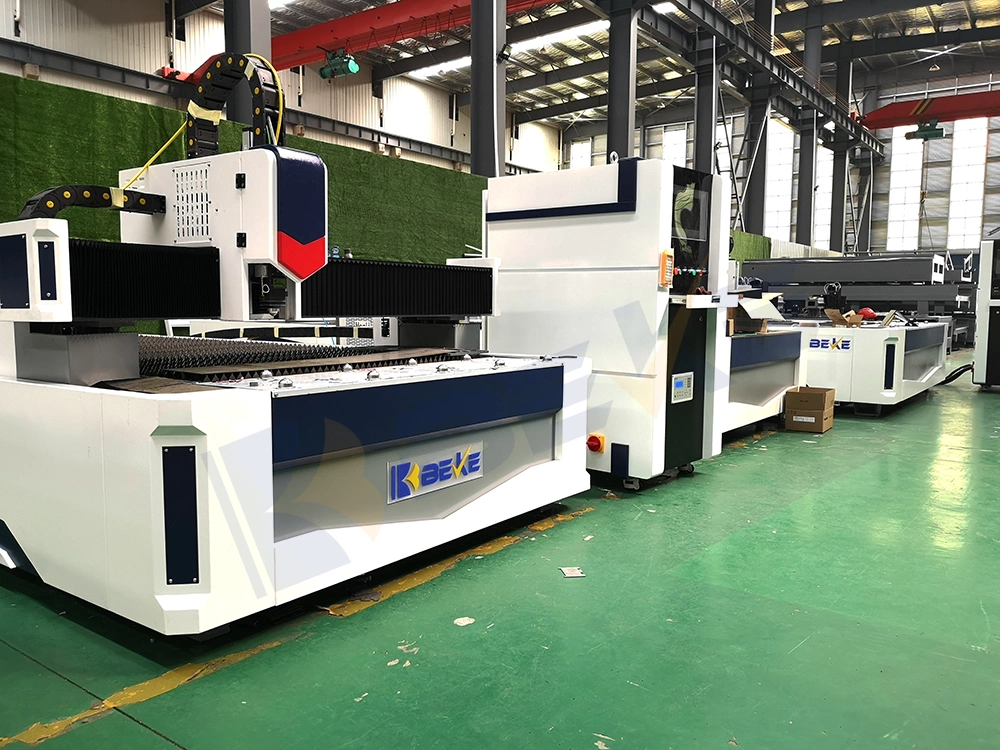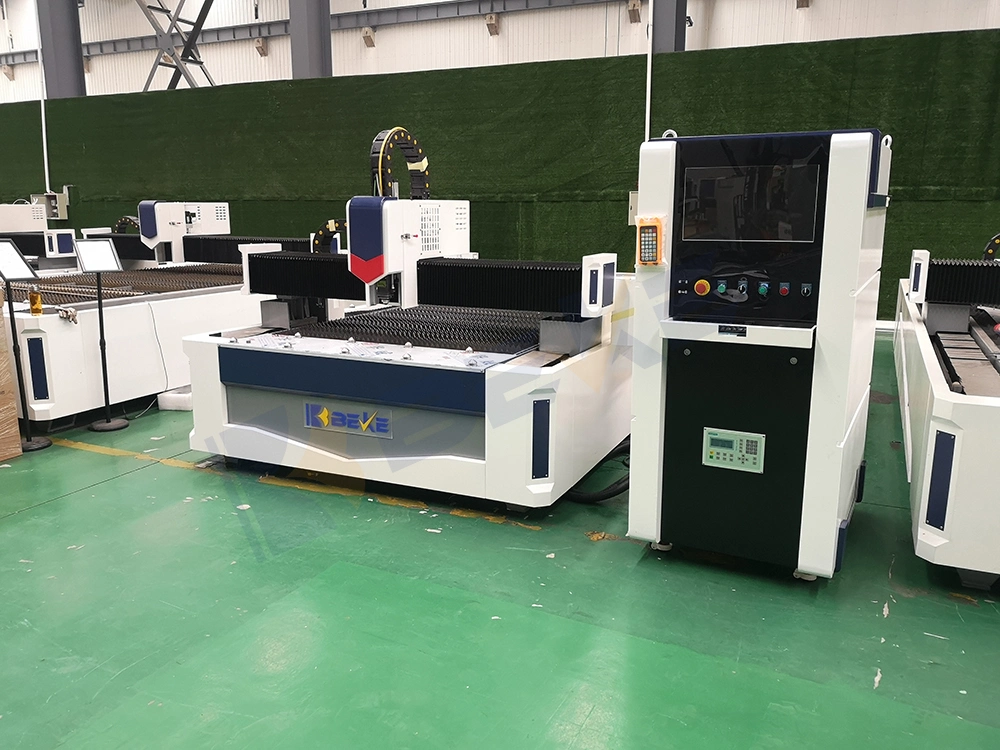 1. Main Parts
No.

Accessory Name

Model/Manufacturer

Configuration

1-

CNC Cutting System

CypCut

Optional:




IPG Fiber Laser




Nlight Fiber Laser




YASKAWA servo motor




2-

Servo Motor

Panasonic-Japan

3-

Servo Drive

Panasonic-Japan

4-

Fiber Laser Generator

Raycus / Feibo - China

5-

X,Y,Z-axes Bearings

NSK - Japan

6-

Electric Proportional Valve

SMC - Japan

7-

High-pressure Pipeline System

Airtac - Taiwan

8-

Electric

Schneider - France

9-

Cooler

Hanli - China

10-

Laser cutting Head

Ray tools - Switzerland

11-

Gear & Rack

YYC/ KH - Taiwan

12-

Speed Reducer

SHIMPO - Japan

13-

Linear Guide Rail

Hiwin - Taiwan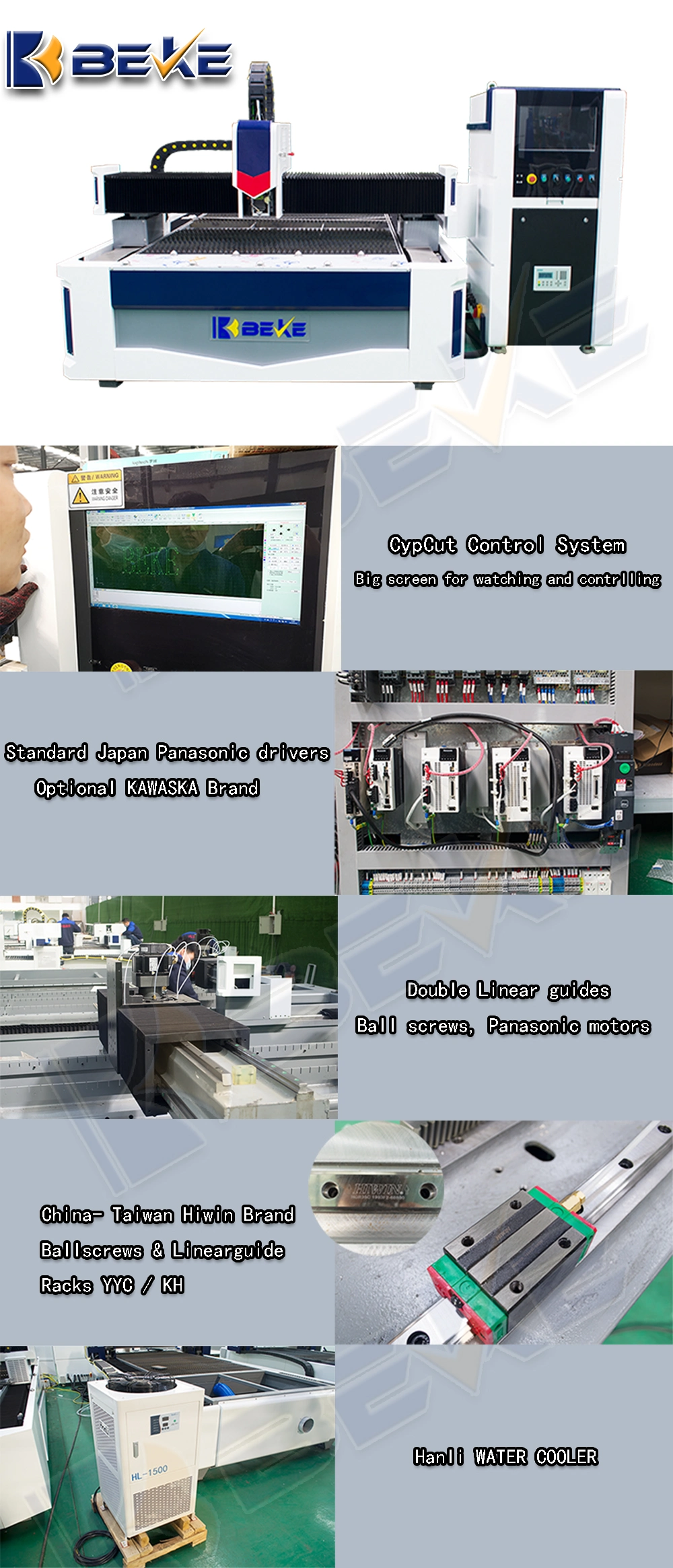 2. Control Sytem Cypcut - FSCUT2000 Sytem
1. Supporting AI, DXF, PLT, Gerber, LXD and other format graphics, accepted international standard G-codes generated by Master Cam, Type3, Wentai and other software.
2. Automatically optimize external DXF files, including: removing the duplicate lines and minimal graphics, automatically distinguishing internal and external modules and sorts etc, and merging connected lines. All the aforementioned functions can be realized by customization or by hand.
3. Supporting common editing and typesetting functions, including zoom, move, mirror, rotate, align, cope and combination etc.
4. Setting the direction of in/out lines and cutting seam compensation, and executing in line inspection
5. Supporting curve segmentation, merging, curve smoothing, text converting curve, parts merging, breaking up etc.
6. Automatic layout function saving time and labor, automatically lace and off-cut
7. Plate can be easily fully covered through a variety of layout ways
8. Flexible and diverse automatic sorting and manual sorting functions that can lock processing sequence of internal graphics through groups
9. Unique processing sequence, simulate interactive mode for viewing processing sequence.
10. One key sets cutting path. more easy and efficient
11. Support segmental punching, progressing punching, grouping pre-punching, and support separately setting laser power, frequency, laser forms, gas type, air pressure, peak current, delay, following heights etc during punching or cutting course
12. Real-time editing frequency and power curve and setting related low-speed starting parameters
13. Powerful material base, all the technology parameters can be stored for second use.
14. Breakpoint memory function, breakpoint forward and backward retrospect, and part graphics processing is accessible
15. Supports any point positioning when machine pause or stopping, and can start from any point
16. One set of software is suitable for cutting tube and plate, and the programming way is identical, supporting intersecting cutting.
17. Supporting height-fixed cutting and outboard following cutting
18. Supporting various cutting ways, precise positioning
19. Strong scalability, up to more than 30 PLC programs, more than 50 programmable process
20. Programmable input/output port, supporting programmable alarm input
21. Support wireless handheld box, Ethernet remote control system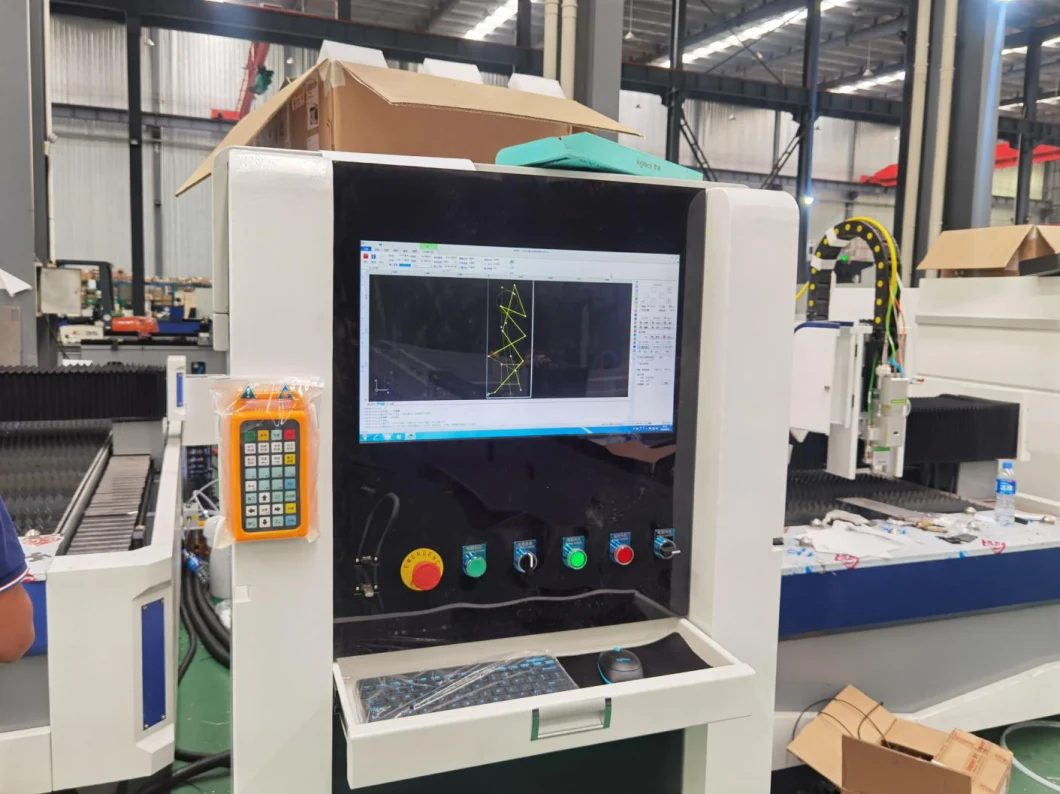 3. Company Views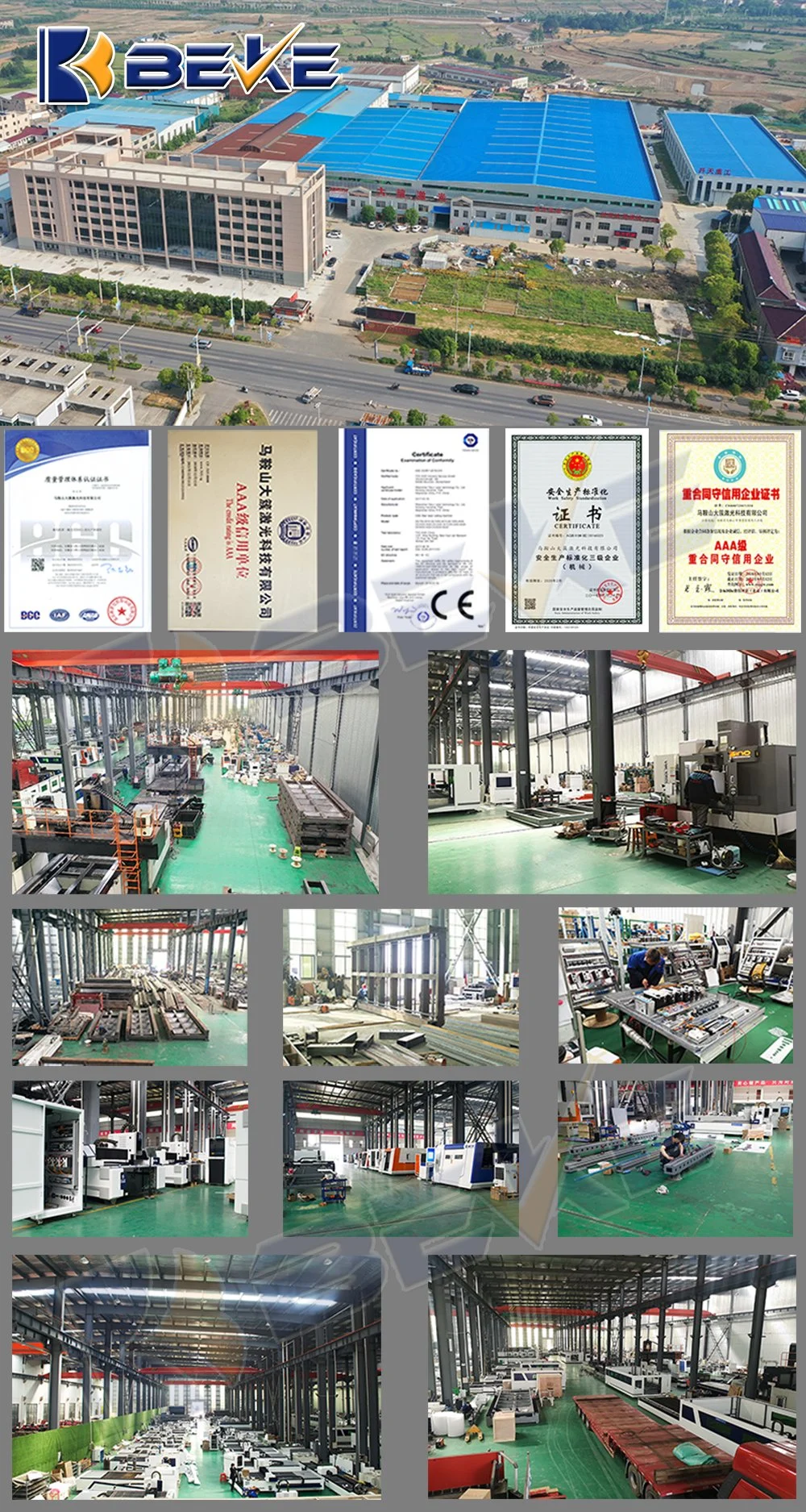 4. Shippment & Loading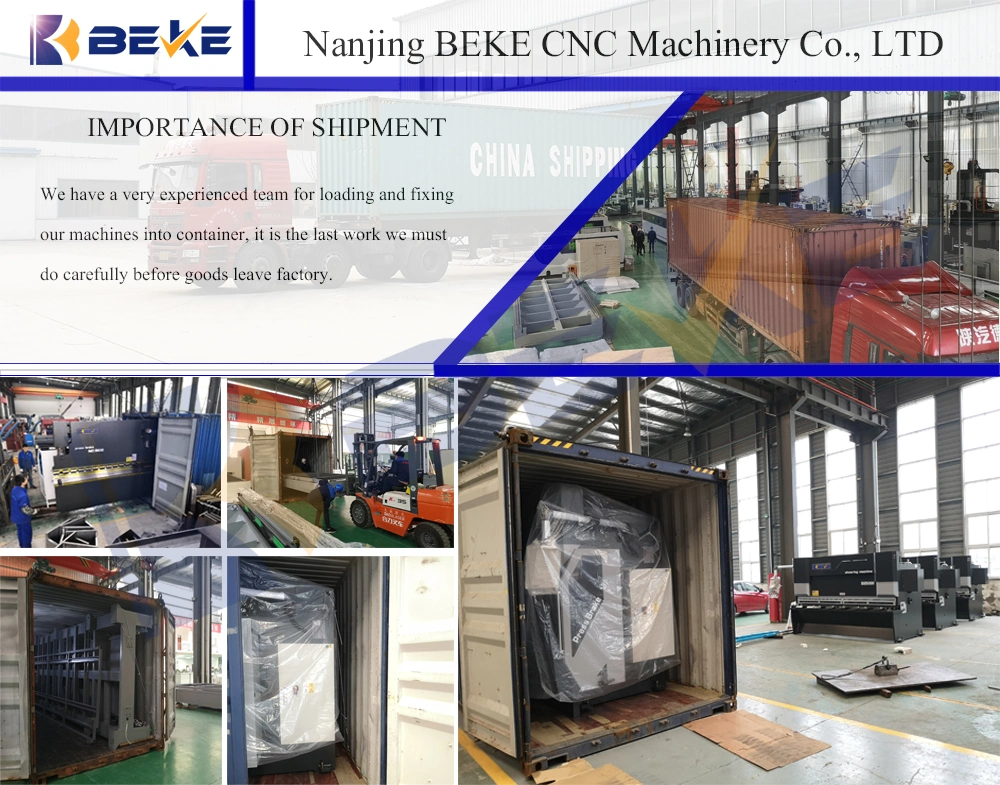 5. More Products